Here's your exclusive invitation to the one event that will positively
change your life & become one of your favorite memories.


Bart Baggett

President of Handwriting University International


"Join us for this definitive, comprehensive, intimate & exclusive Handwriting Analysis Certification Live Training…and walk away a
Certified Handwriting Expert!"



From: Bart Baggett, President of Handwriting University International
RE: 2015 Annual Handwriting Conference – Sept. 18-20, 2015
Dear Friend,
You're invited to join me for the most important seminar event of the year. Read on and discover why you'll want to be sure to clear your calendar now to be one of just 50 individuals who gain access to this unique intimate mastermind event.

How would you like to be one of only 50 select people who will enjoy spending 3 + days with me, my world-class faculty, experts, and therapist from around the world at the upcoming Handwriting University Annual Conference in Tuscon, Arizona.
This one-of-a-kind conference will be 3 1/2 information packed, fun-filled days of psychology, graphology, business, therapy, handwriting, and tons of personal development. This not a 3 day lecture… it is a hands-on experience with some of the brightest minds in the business sitting next to you… guiding you.
We have created a very generous 'early bird bonus package' to reward you for purchasing your ticket way in advance. You can leverage these bonus items to re-coop your investment, learn more about yourself, and get a jump-start on mastering the ability to analyze handwriting and heal others. This knowledge can impact your life and the lives of your family and friends. Make sure you enroll early, so you can grab the early bird bonus items AND lock in a ticket (which will sell out at just 50 seats available… so don't delay).
The event will be held at in a private conference room at a hotel yet to be determined. But the room wont be very large and we are sincere when we say we can only sell 50 tickets to this event. So, if you want to attend… buy your tickets as soon as possible. We will sell out and no "last minute" people can just slip in. The space is simply too small. Plus, we value the intimacy and connections a small event cultivates. It is an entirely difference experience compared to an event with 900 people. We want to have lunch with you… we want to get to know you and sit next to you answering your questions.
Tickets are only available to current Conference Alumni, Graduates, and Enrolled Certification Level 301 Students. We are giving you, our priority clients, first shot at the early bird bonus items and a seat in which will surely be our fasted selling tickets ever for a live event. If the event is not sold out by July 1st, we will open up tickets to those on the waiting list after August 1st, 2011. The general public is not allowed at this event (unless one of them attends with you, a Handwriting University Student or Alumni.)
If you are not enrolled into the 301 Certification Course, but you do WANT TO ATTEND the event, consider enrolling into the 301 Certification Course this month so you can qualify to buy your ticket early and be ready to get certified at the event this Fall.
If you have been considering getting serious about handwriting analysis… now is the time to step-up and get enrolled into the Course. The moment you enroll into the Home Study Course you qualify for Early Bird Enrollment and you can "lock-in" one or more seminar tickets before the tickets go on sale to the general public. We don't want you to miss out. We want you to attend the seminar, pass your tests, and leave Las Vegas a certified handwriting expert!
Call 1-800-398-2278 or 1-310-779-7224 ext 2.
Ask about financing options for the home study course and about the early bird enrollment bonus items.
If you own the Level 301 Home Study Course, and have not yet mailed in your test to become officially certified, this is the perfect time to do it all, in person, the fun way at the conference Saturday morning.
In fact, if you qualify to take the final exam and you pass…you'll leave Tuscon with a gorgeous official certificate telling the world about your expert knowledge and opening up entire new opportunities for speaking, writing, and extra income from the internet.

If you're still a beginner, don't worry about taking any tests and just come to learn and have fun. If the idea of becoming certified by Monday afternoon excites you, sign up and start studying right now so you're ready for the written and verbal test on Monday morning.
Guess what…you don't have to already be certified nor be an experienced student to attend. This event is open to all levels of handwriting knowledge. You'll love every minute of it and the we encourage you to read the 101,201, and 301 course material before you arrive.
Plus, just like our past few conferences, our world class guest faculty members cover various topics of special interest such as health, criminal tendencies, neuro- linguistic programming, and even how you can make $100-$350 an hour as a part-time handwriting expert.
Could you use a part- time business than impacts lives in a positive way?
This year, we've designed an event that caters to both non-certified and certified handwriting analysts. Depending on your experience level, you might want to attend sessions on all 4 days of the event, or just drop in on the days which most intrigue you and apply to your ambitions as a teacher, therapist, coach, or friend.

On Sunday we'll cover the most topic of marketing and professional speaking, so we're limiting this day to Level 401 students only. (Those of you who are serious about building a career.)

Finally, you'll have plenty of free time to mix, mingle, ask questions, and make lots of new friends. It is not uncommon to see our students come back year after year because they have so much fun with their new handwriting friends. This is a community, join us.

Imagine learning, mingling, and dining with some of the top Handwriting Experts in the world at this year's International Conference.
You'll have the unique opportunity to meet and learn directly from some of the world's most respected handwriting analysts, doctors, and therapists. We have gone out of our way to locate and invite the most brilliant minds to assist you in learning more about yourself and others. Imagine how much you're going to learn from them.

Master the Primary 80 Traits taught in Level 101, Level 201, and Level 301 Course


Discover easy techniques to earn money doing handwriting analysis


Learn how to phrase bad personality traits in a kind way.


Spot bad traits instantly and size up a person in just seconds.


Get hands-on experience stacking traits together… with real people.


Discover the psychology behind grapho-therapy and why it works in therapy.


Uncover how to spot a bad employee or a good employee quickly.


Learn how to earn extra cash flow leveraging your handwriting skills on a part-time basis.


Laugh out loud as you learn about yourself and others.


Make new friends from around the world and experience Las Vegas at night!


Analyze real handwriting and meet those people to confirm your findings.


Understand how Gestalt Analysis fits into your "big picture" analysis.


Pass your final exams and take home a beautiful, frame-able Certificate!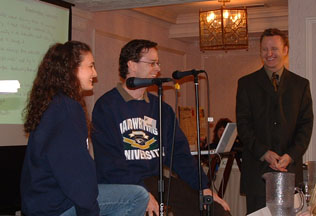 "This course has helped me personally understand myself clearer and helped me see areas of my personality that need changing. I am fascinated with what makes a person act the way they do so this can give me great insight. I LOVE THIS COURSE! I believe it is totally worth the money. In fact, I believe you should charge more. You can't put a price on the information you present and the effects it can have on people."
Jody Miller, Sugarland, TX USA
Listen to comments by Jody & Chip

Dear Bart and Staff,

Thank you. There is no way to fully express my gratitude for this seminar. I think it came at just the right time. I am very excited that I will be able to help people. I have finally found my niche.
Anyone considering taking this course, should stop considering it and DO IT! I'm thrilled in knowing I go home with so much more than ever before.
Kim Brown, Private Investigator
Hyde Park, Utah, USA

If you're like our past live seminar attendees, this event will not only be the most
FUN FILLED
seminar you've ever attended, you'll also walk away a changed person – having knowledge and insight into human behaviors that you can use the rest of your life to

help people around you become happier and achieve more of their dreams

. (Seriously, watch the testimonials…this event is MUCH more than just a handwriting conference!)
-
Rita Gonzales Santa Fe, NM



Our events contain

more than just handwriting analysis

- our faculty teaches therapy techniques, self-help tips, marketing for your business, business tips to make money, and modern psychology you won't read in any book. 

In fact, we asked the faculty to focus on things NOT found in other common handwriting books you will find in major bookstores. You will leave knowing things

very few

other people know.
One of the most exciting parts of last year's 2010 Annual Conference (Mp3 are now available as part of the 501 Advanced Course) was the guest speakers and one-on-one attention given to each audience member by Handwriting University's many extraordinary faculty members.
That event was so raved about and well received, students from other parts of the country (and world) have begged us to come to their city in the coming years. We only do one conference a year…and this is it for 2011. Enroll early and be part of an exclusive community.