See Bart live in Pune India for special lecture 7 Handwriting Strokes of Self-Made Millionaires and Special Handwriting University Graduation ceremonies
December24 , 2017  3pm-8pm.
In order to RSVP your seat and get the early bird prices, call your local Authorized Trainer today.   Go here for the number of an Authorized Trainer in Pune to buy tickets from.
Early Bird Tickets if you purchase before November 21st:  6618 Rs
November 21-December 10th:  9618 Rs
December 10th-Dec 23rd:  12618 Rs
Door Price 16618 Rs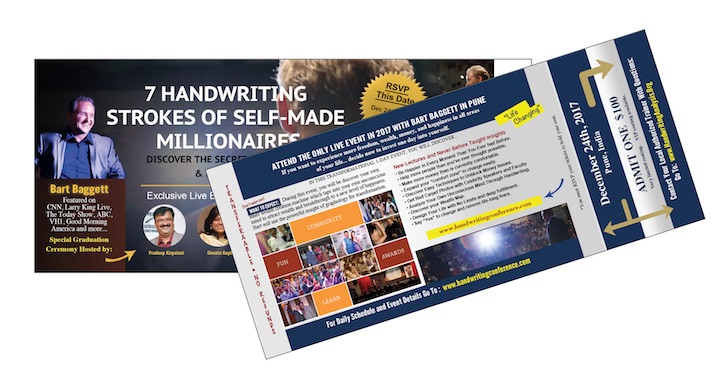 All Pune based Authorized Trainers can sell you tickets at the discounted early bird price and get you the free bonus of an autographed paperback copy of Bart's latest book, The Magic Question, just for attending.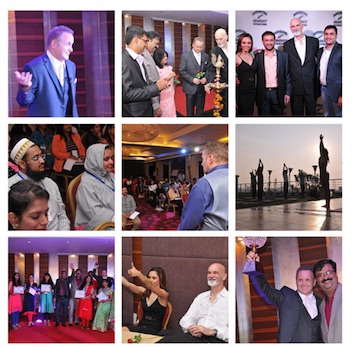 Call your local authorized trainer for details, guest passes, and to pay for your early bird ticket.
http://handwritinganalysis.org
Taiwan Event:
On December 20th, Bart will be speaking in Kaohsiung, South Taiwan to our fans and graduates who speak Chinese.  People are coming from all over Asia for Bart's first visit to Taiwan.  Come and meet Bart Baggett in person.
Call Ms. Lee Kuang CHEN to RSVP your seat. 886-9-278-60938
http://handwritinguniversitytaiwan.com/
Or call Angela Chou : 886-2-28730194 /Angela Chou
This event is low cost and everyone is welcome.  It will be held at a restaurant or local location depending on the number of RSVP.
Next International PRISM and Handwriting Analysis Conference in the USA :
September 21 – September 23, 2018
Location: Los Angeles, California
This event will be filled with PRISM Life Design graduates and experts in personality profiling for businesses and personal transformation.

Want to become a PRISM certified life design coach?  Check it out now while enrollments are still being allowed for this semester.  http://lifedesigncertification.com